Mexican Pregnancy Bolas "Lisse Plaqué argent Pierres"
Accessories - Mexican Pregnancy Bolas - Abitini Neonato
Saily Mexican pregnancy bola, model "Lisse Plaqué argent Pierres".
Currently sold-out
Warning: Last items in stock!
Availability date:
2110DXBX
Saïly Bijoux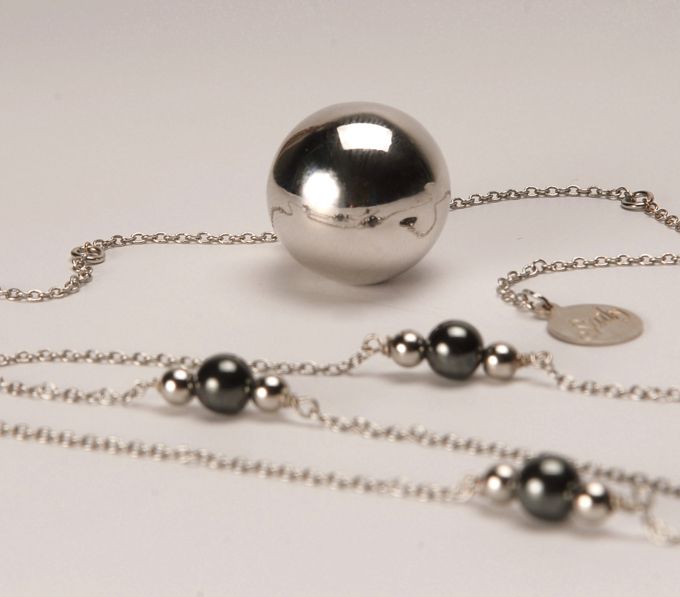 The bola is a jewel especially conceived for the women in pregnancy: it is traditionally worn in Mexico, in India and in Indonesia.
Inside the bola a small xylophone is welded, on which a small marble dances to the rhythm of the movements of the mother. It sends forth a beautiful toll, sweet and singable, perceived by the baby starting, on average, from the 20th week of pregnancy.
The bola should be put on the abdomen and worn as often as possible. The baby familiarizes with this sound that will calm him during the pregnancy, but also after the birth since he or she will recognize it.
After the birth, the mother continues to wear the bola for some time and it serves as a jewel of nursing; then she offers the bola to her child: it is hung to the bunk or to the stroller. The familiar sound cradles and reassures him.
Drawing her roots in the tradition of women of the world, Saïly has introduced the bola, ethnic jewel, in the delicate and demanding universe of jewellery. Decorations, thin stones, delicate chains...worn by the mother that transmits it to her child, the bola is a jewel loaded with symbolic meaning and attachment.
Saïly is a line of pregnancy bolas created by Cécile, a refined and sensitive French designer. Cécile has traveled around the world searching for the most original and artistic ethnic jewels. The result of this search is the collection of bolas Saïly: the bolas are produced in Mexico and the chains are made in Italy.
Every detail is taken care of. Saïly bolas and chains are made with the best quality materials and are nickel-free, therefore have a low allergy risk; besides they do not lose colour over time.
Most models have an adjustable length chain. The pendant has been chosen to get the most harmonious sound.
Saïly bolas are a perfect gift for a woman in pregnancy. Besides, after the pregnancy, she can continue to wear the chain, that is highly fashionable.
The style and quality of the Saïly bolas are of absolute excellence: before purchasing cheap bolas of a different brands, we recommend you to make a comparison: with Saïly you get the best quality and price combination.
Product Exchanges and Returns
---
Q&A - Domande e Risposte
(0)
Non ci sono domande dei clienti per il momento.
La tua domanda è stata inviata con successo il nostro team. Grazie per la domanda!
---