Mexican Pregnancy Bolas "Soleil Perles"
Accessories - Mexican Pregnancy Bolas - Abitini Neonato
Saily Mexican pregnancy bola, model "Soleil Perles".
Warning: Last items in stock!
Availability date:
3900C17BX
Saïly Bijoux
Saily Mexican Pregnancy Bola model: Soleil Perles.
The necklace length is adjustable in three different positions (as shown in the picture below). The maximum length of the chain is 116 cm (58 cm x 2).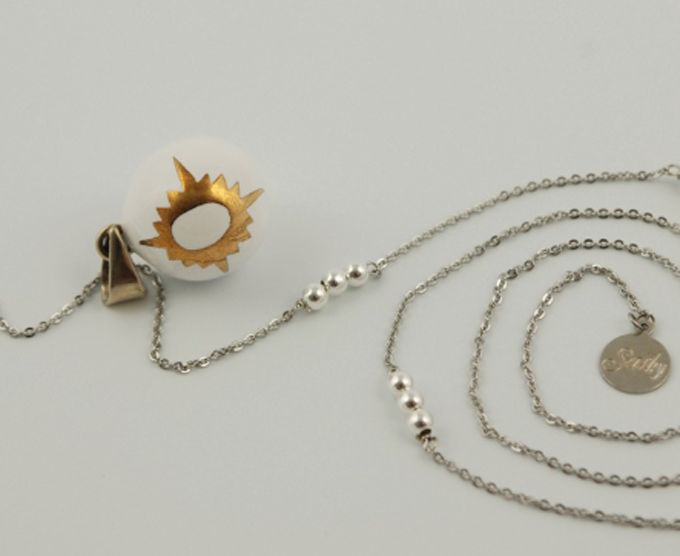 The bola is a jewel especially conceived for the women in pregnancy: it is traditionally worn in Mexico, in India and in Indonesia.
Inside the bola a small xylophone is welded, on which a small marble dances to the rhythm of the movements of the mother. It sends forth a beautiful toll, sweet and singable, perceived by the baby starting, on average, from the 20th week of pregnancy.
La bola è un gioiello specialmente concepito per le donne in gravidanza: è tradizionalmente portato in Messico, in India ed in Indonesia.

All'interno della bola è saldato un piccolo xilofono, sul quale una piccola biglia danza al ritmo dei movimenti della mamma. Emette un bel rintocco, dolce e cantabile, percepito dal bambino mediamente a partire dalla 20° settimana di gravidanza.
La bola si porta sul ventre e il più spesso possibile. Il bambino familiarizza con questo suono che l'acquieterà durante la gravidanza, ma anche dopo la nascita poichè lo riconoscerà.

Dopo la nascita, la mamma continua ad indossare la bola per qualche tempo e se ne serve come gioiello di allattamento; poi, offre la bola al suo bambino: la si appende al lettino o al passeggino. Il suono che gli è familiare, lo culla e lo rassicura.
Attingendo le sue radici nella tradizione delle donne del mondo, Saïly ha introdotto la bola, gioiello etnico, nell'universo delicato ed esigente della gioiellieria. Decorazioni, pietre fini, catene delicate...portata dalla mamma che lo trasmette al suo bambino, la bola è un gioiello carico di significato simbolico e di attaccamento.
Saïly è una linea di bolas per gravidanza creata da Cécile, una raffinata e sensibile designer francese. Cécile ha viaggiato per il mondo alla ricerca dei gioielli etnici più originali e artistici. Il risultato di questa ricerca è la collezione di bolas Saïly: le bolas sono prodotte in Messico e le catenine sono made in Italy.
I bijoux di questa collezione sono stati realizzati curando ogni particolare. Le bolas e le catenine Saïly sono realizzate con i migliori materiali e sono prive di nichel, quindi ipoallergeniche; inoltre non si discolorano col passare del tempo.

La catenina per la maggior parte dei modelli è regolabile in lunghezza.

Il ciondolo è stato scelto per ottenere il suono più armonioso possibile.

Le bolas Saïly sono un regalo perfetto per una donna in gravidanza.Inoltre dopo la gravidanza, si può continuare ad utilizzare la catenina che è di gran moda.

Lo stile e la qualità delle bolas Saïly sono di assoluta eccellenza: prima di acquistare delle bolas di poco prezzo, vi consigliamo di fare un confronto: con Saïly avrete un rapporto qualità/prezzo eccezionale.
Product Exchanges and Returns
---
Q&A - Domande e Risposte
(0)
Non ci sono domande dei clienti per il momento.
La tua domanda è stata inviata con successo il nostro team. Grazie per la domanda!
---