Cool Dog - Wearable Fan for Dogs and Cats
Wearable fan for dogs and cats available in 5 sizes and 3 different styles, to help your beloved pets endure the hottest days, even during outdoor walks.  
Warning: Last items in stock!
Availability date:
Sweet Mommy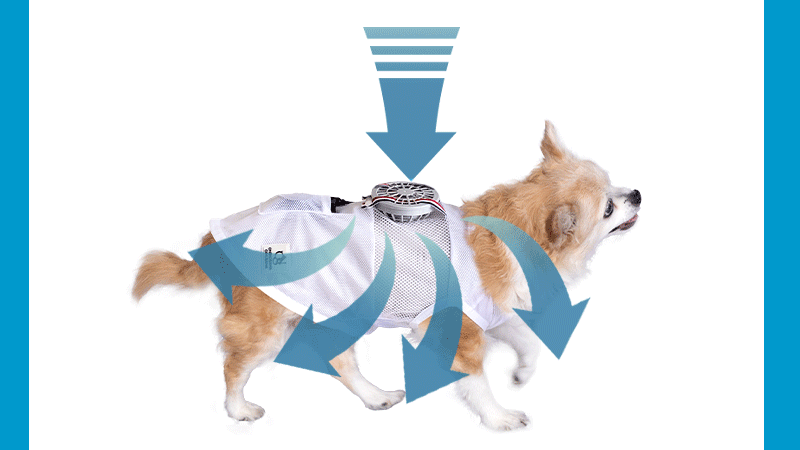 The first wearable fan for dogs and cats!
The recent record-breaking heatwaves have become a real issue for our the health of our pets. Experts have advised owners to skip walks or take their pets out very early in the morning or late at night to avoid exposing them to extreme temperatures.
Rei Uzawa, the founder of Sweet Mommy, came up with the idea of a wearable fan after seeing how tired her pet chihuahua Swan got after going out for a walk.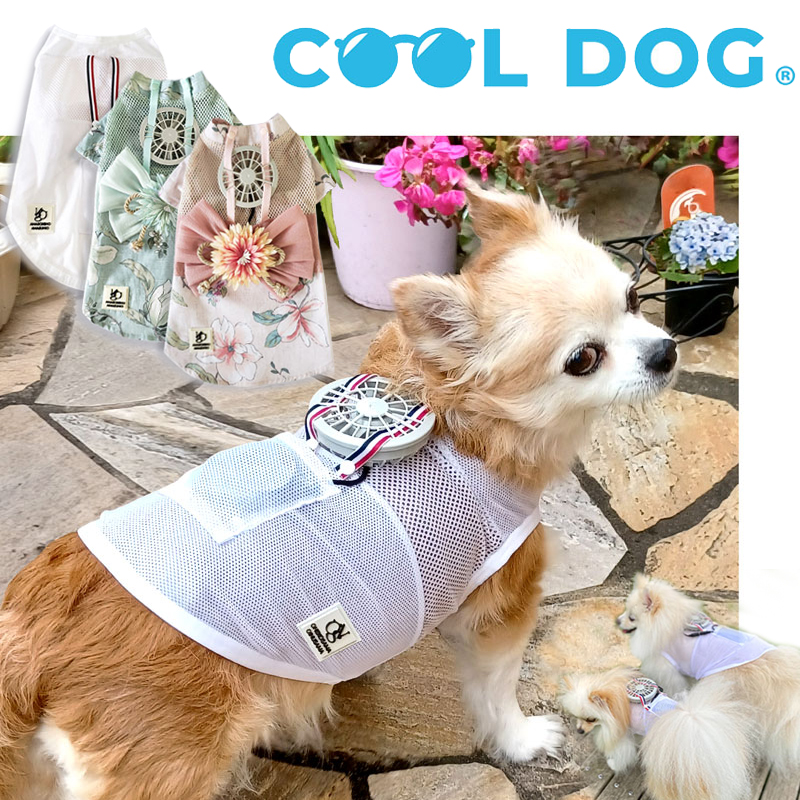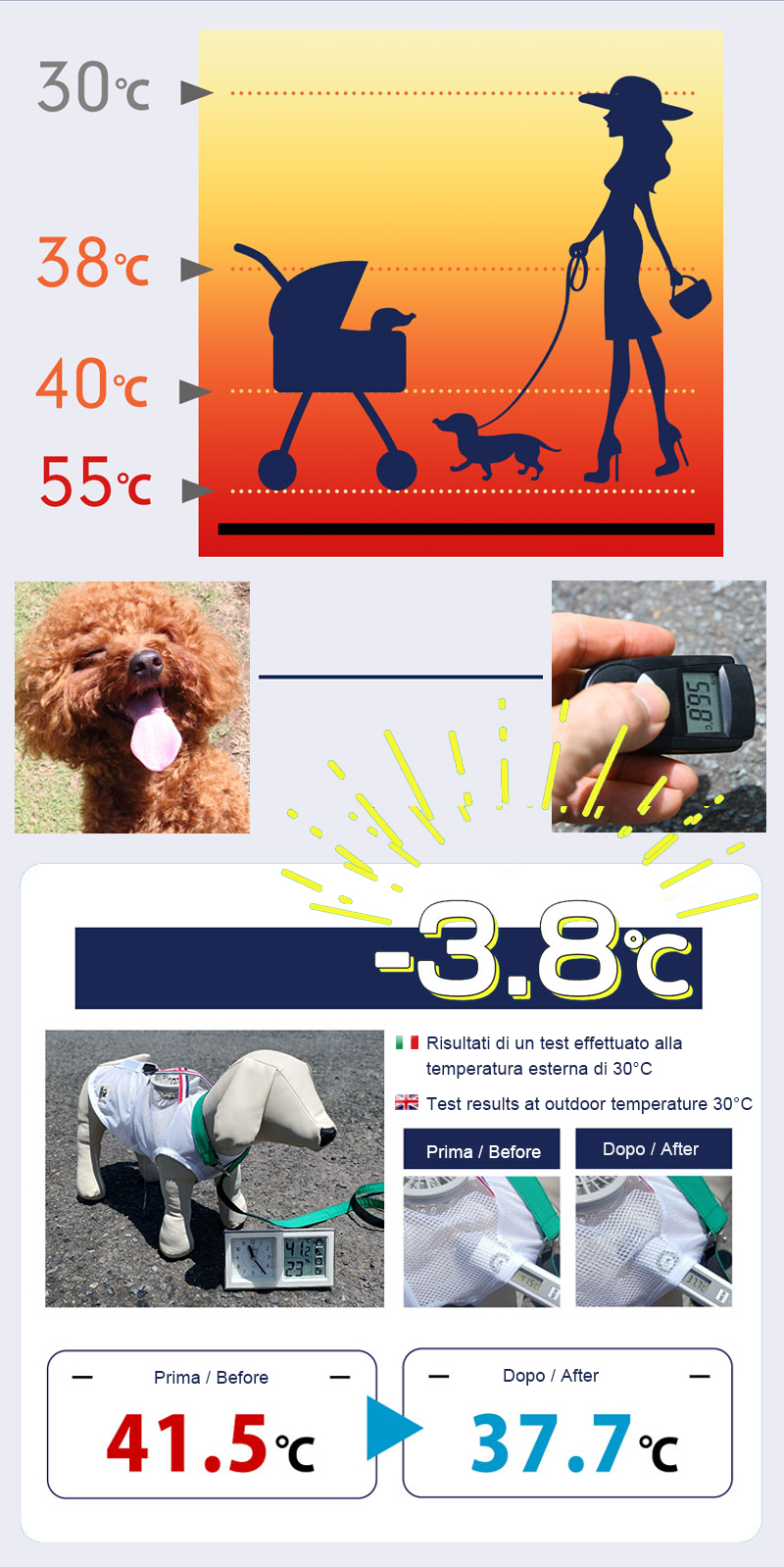 The new Cool Dog range, which is also suitable for cats, is modelled on fan-fitted apparel that has become increasingly popular among construction workers working under the sun in the hottest hours of the day.
The new design was created under the supervision of an animal doctor at Oasis Animal Hospital.
The device is a battery powered fan. It is attached to thin material and blows air around the animal's body.
The wearable fan weighs just about 80 grams!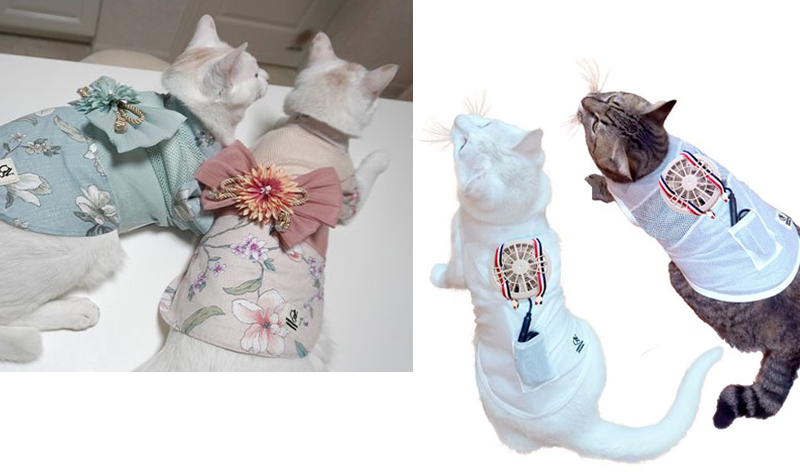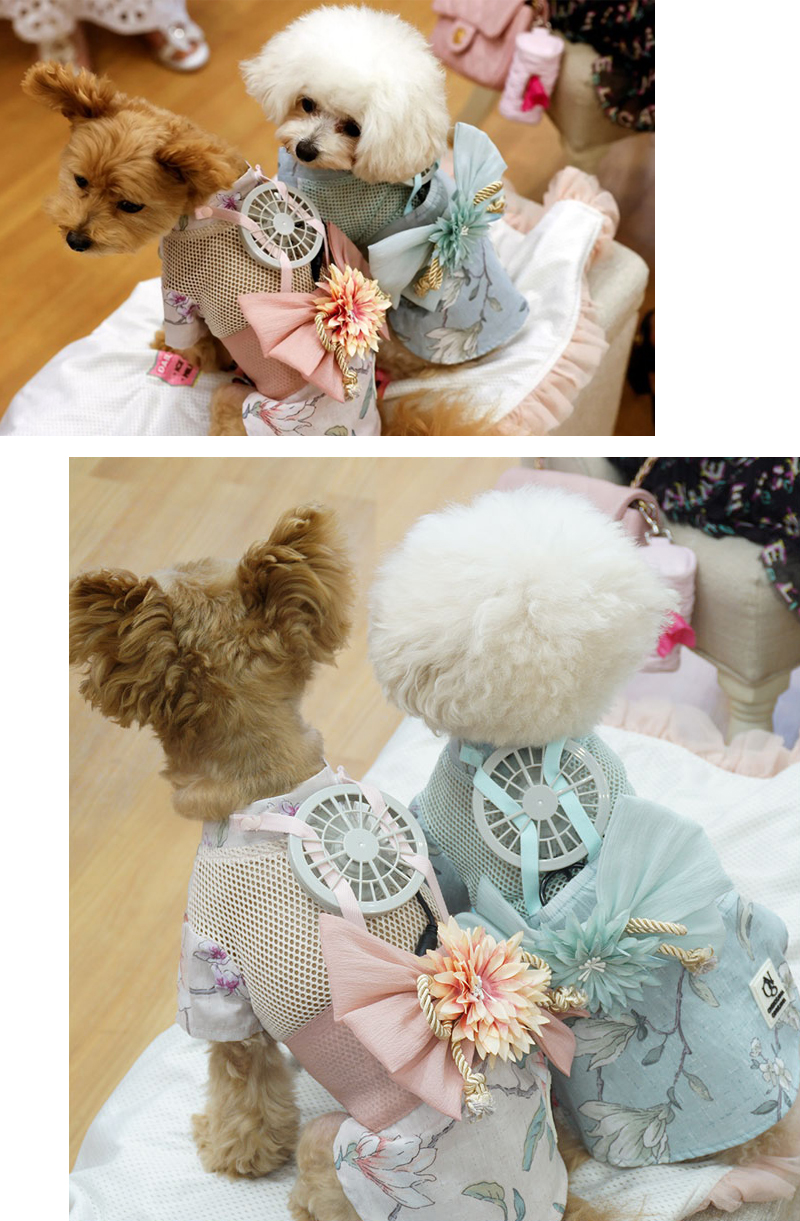 The jacket is made by a cool and breathable fabric.
Three different styles of jacket are available: the basic, unisex white dress and two styles of kimono-inspired dresses for female dogs.
The kimono styles include a detachable flower and are available on reservation.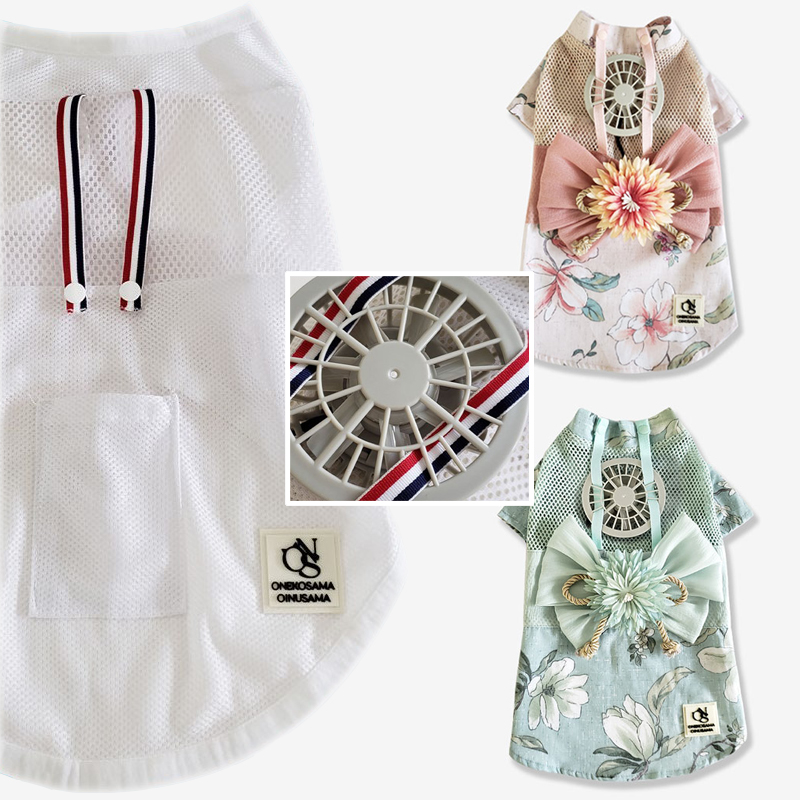 The jacket is very easy to assemble and fit to your dog, even if the dog is wearing the leash.
Please check the video by clicking on the photo herebelow.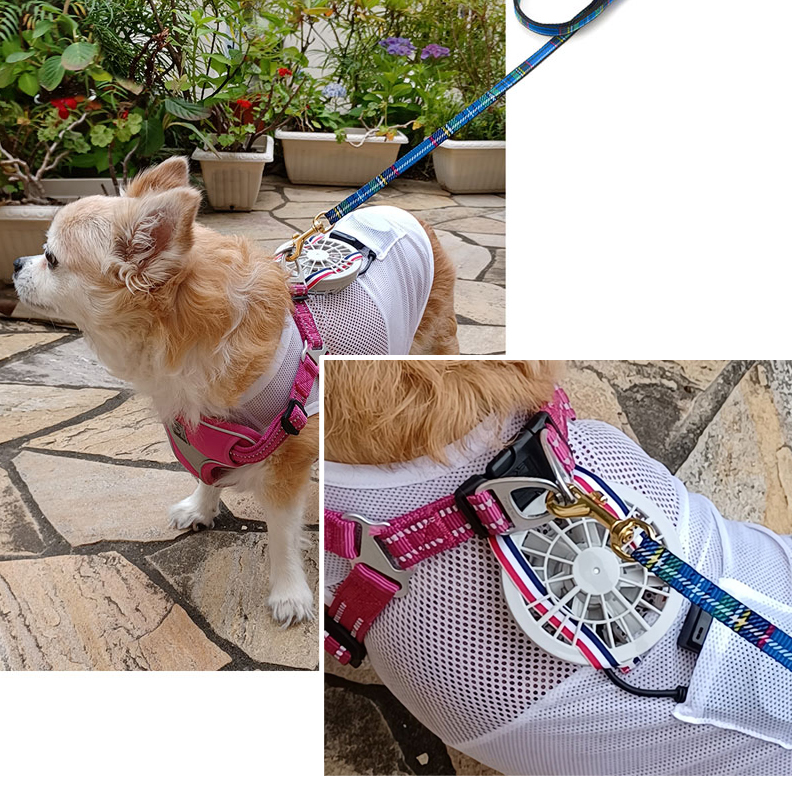 The new dog wearable fan has quickly become a trend topic in USA and Japan and was covered by the most important media, including CNN and The Guardian. By clicking on the respective images, you can read the original news.

Sweet Mommy is receiving very positive feedback from the customers that have already tried the new pet accessory. Customers are very satisfied as they finally found a way to help their pets to beat the heatwave.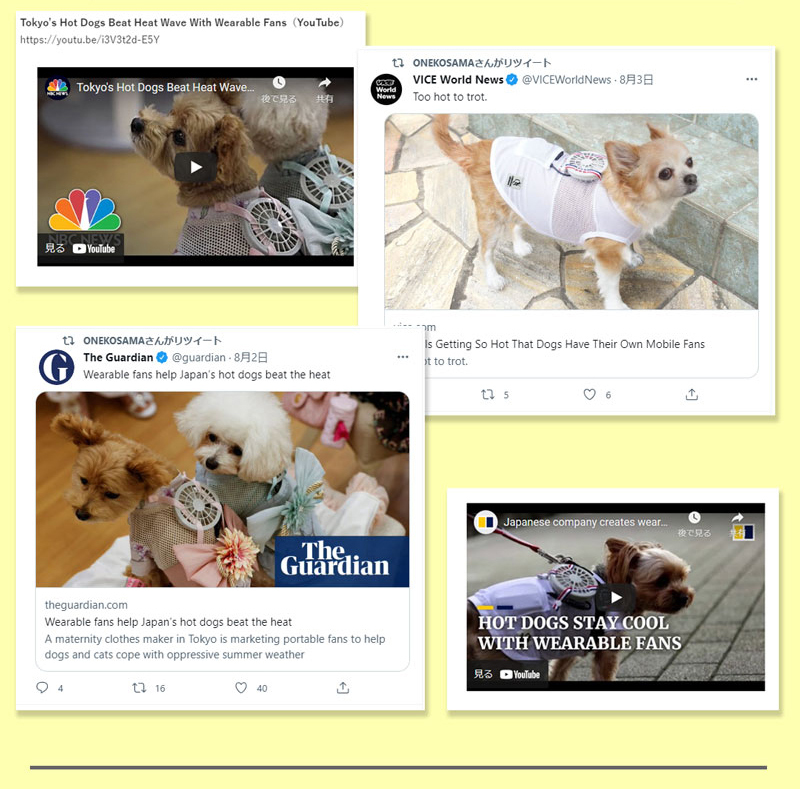 Please choose the right size for your dog or cat by checking the size table below.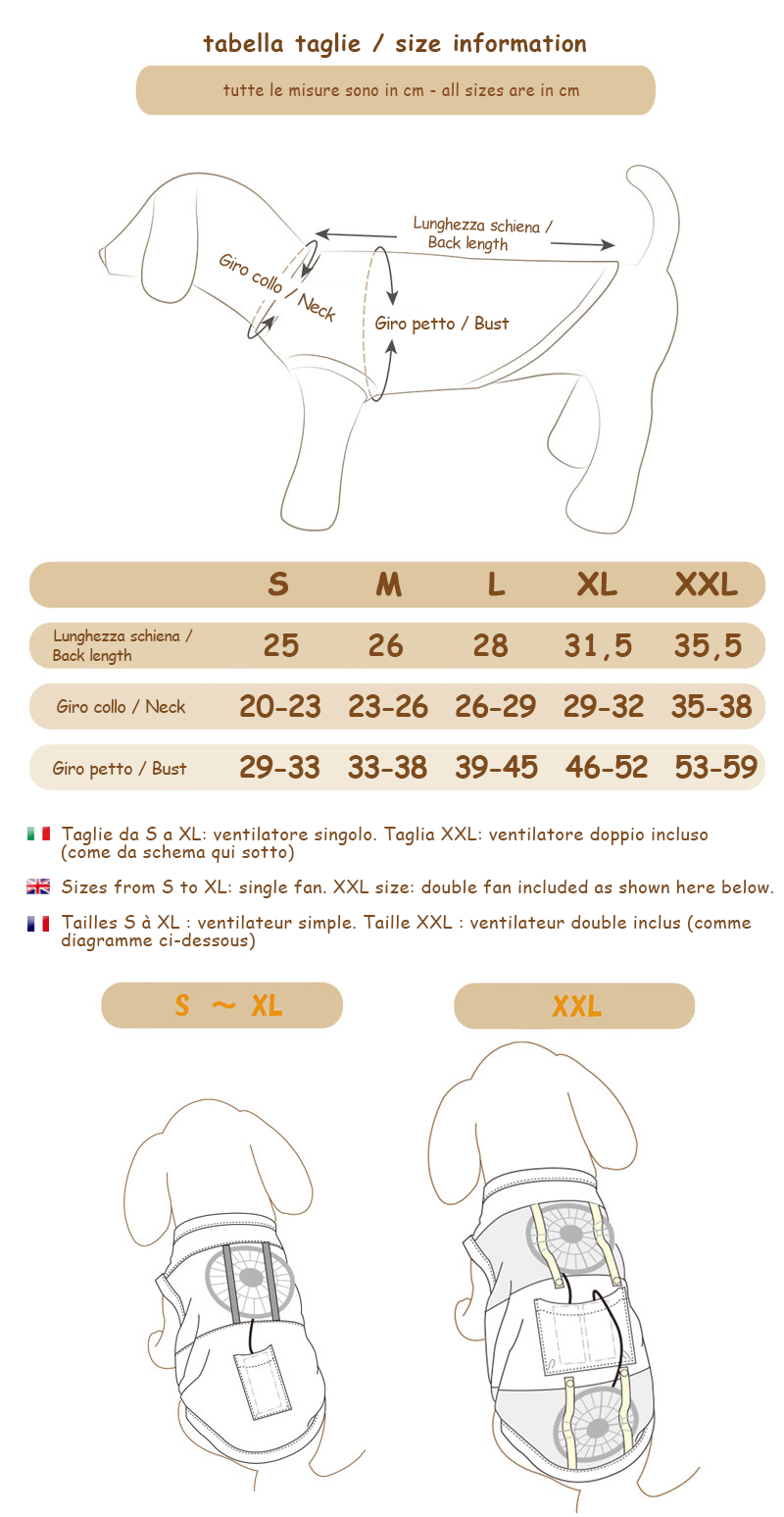 Product Exchanges and Returns
---
Q&A - Domande e Risposte
(2)
Da
Genine Cocks
|
2023-01-12 01:07:54
Do you ship to Australia? How much for the XXL size? Thank you.
amministratore
Hello, thank you for contacting us, we can ship from our warehouse in Japan to Australia, shipping costs are €25 (via EMS).
Da
Linda Walters
|
2022-09-08 06:00:26
I live in the USA. I'd like to buy the new dog fan. How do I order?
amministratore
Hi, thanks for your inquiry. You can purchase the dog fan on our site. We regularly ship to USA. In your case, this item may be shipped directly from Japan to USA to be quicker. We remain at your disposal Paolo
La tua domanda è stata inviata con successo il nostro team. Grazie per la domanda!
---